Whether you're heading to work, dressing to impress at a party, or just want to lounge in style, there is a pair of pants for every occasion. Read more below to discover the trendiest styles and the best materials for any plans.
Dressing for work
When dressing for work, the right pair of pants can make all the difference. Your work attire should exude professionalism and look polished while still allowing you to express your personal style.
The best work pants can be dressed up or down easily. Take your classic tailored pants, for example: pair them with a blouse or blazer for a more business look, or dress them down with a casual top and sporty sneakers for less corporate days.
Wide-leg pants can look professional paired with a blazer, but they can also be rocked for an after-work drinks outfit. Remember to keep the fit well-tailored and not too tight, especially if you're sitting behind a desk for lengthy periods.
When it comes to colours, neutrals are always a safe bet but don't be afraid to experiment with bold hues like blue, green, and red. You can also play around with stripes and patterns to add some spice to your look. Also, with the right accessories and footwear, you can easily take your office outfit from day to night!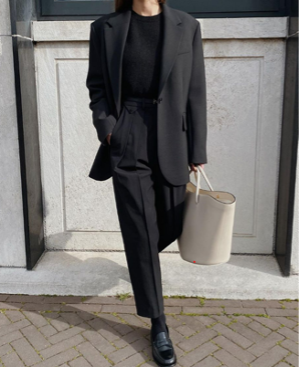 Light walks at the park
Maintaining a healthy lifestyle involves more than just eating well and getting enough sleep – it also includes staying active! Whether you're hitting your daily step goal, taking a leisurely stroll through the park, or taking your furry friend for a walk. Let's face it, choosing the right pants can make all the difference!
For a leisurely walk, it's essential to choose pants that are made of lightweight material, breathable, and let you move around freely. You want to be able to glide through the park effortlessly, without any restrictions holding you back. If you prioritize comfort and ease of the material, but at the same time want it to keep you warm, cashmere is the perfect choice. Gocashmere's cashmere pants are made with 100% organic cashmere, and one of our favourites for light activity is the organic jogger – it is just the right amount of baggy and fitted to be comfortable and stylish!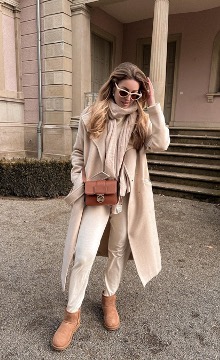 Instagram: @vanessaciliberto
Attending a black-tie affair
When attending a black-tie event, you can opt for a looser fit for a more refined look. Pair your evening gown with heels to elongate your legs and give your outfit that extra touch of sophistication.
For a classic and timeless look, consider a pair of high-waisted wide-leg pants in a neutral colour. Pair them with a fitted blouse or a silk camisole and matching blazer for a polished ensemble. Give your outfit some personality with statement earrings or a colourful clutch.
If you're feeling daring, consider a pair of suit pants in a bold colour like red or green. Pair with a simple blouse and understated accessories for a sleek and sophisticated look.
Running casual errands
Imagine you're out running errands in your worst pair of sweats, and you bump into someone you know. Yikes, right? Not to worry, you can look stylish even while off duty.
We recommend pants that can be dressed up or down to get the most out of your wear. Our preference goes to a pair of knit pants that are cosy, comfortable, and give you an effortless, yet stylish look. We recommend the Gocashmere Wide Organic Cashmere Knitted Pants. Choose a matching top for a cute model-off-duty look, or with a blouse and a coat for a more put together silhouette. Casual errands shouldn't be an excuse to dress down, but rather an opportunity to showcase your style while feeling relaxed.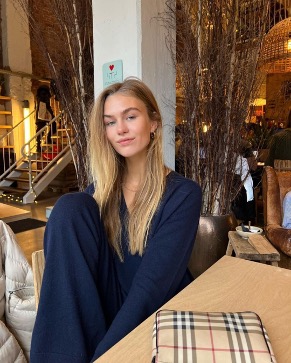 Dressing to impress on date night
Whether you're going for a night out or a casual coffee, there are plenty of pants that can help you achieve the perfect look.
For a romantic and feminine vibe, consider wearing pants in soft, flowy fabrics like silk or satin. Opt for pastel colours like blush or lilac for a touch of romance.  For an effortlessly sexy look, try pairing a cropped top with high-waisted pants that hug your curves. Leather pants can also add a touch of edge to your outfit and are perfect for a night out at a fancy restaurant or a concert. Top it up with a pair of sleek heels, and you'll be sure to turn your date's head.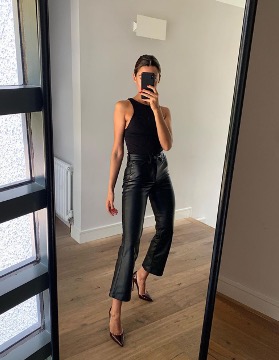 Party Goer
When it's party time, don't hold back your main character energy.
If you want to stand out, metallic pants are a great option. They catch the light and add some sparkle to your outfit. Pair them with a simple top and understated accessories to let your pants be the star of the show.
For holiday parties, velvet is a popular fabric for the holiday season, and for good reason. It's soft, luxurious, and adds texture to your outfit. Choose a bold colour like emerald or burgundy to make a statement.
If you want to steal the show, sequin pants are the way to go. It's eye-catching, fun, and adds glitz and glamour to any outfit. Pair them with a simple top and minimal accessory to really let the pants shine through.
Lounging at home
Lounging at home can be one of life's greatest pleasures. There is nothing quite like sinking into your couch or bed after a long day of work or just taking a relaxing day off. But just because you are staying in doesn't mean you can't look good and feel comfortable at the same time!
When it comes to WFH attire, comfort is key. You want to be able to sit, stretch, and move around easily without feeling constricted. This is where the knitted cashmere pants can come in handy. Made with soft material, they offer ultimate comfort and relaxation for those long days spent indoors.
Our favourites are the Gocashmere's wide organic cashmere knitted pants that come in a range of styles and colours, making it easy to find one that suits your wardrobe. Pair your pants with a cosy jumper for a relaxed, comfy look, or wear them with a blouse and dainty accessories for a virtual meeting or a quick errand run.
Traveling
When travelling, it's important to choose pants that are versatile, comfortable, wrinkle resistant, and have pockets for added security. To ensure the highest comfort and stylish look, you can opt for Gocashmere's pants made with the softest and high-quality cashmere from Mongolia. Apart from staycations and park walks, our favourite wide knitted pants and organic cashmere joggers are also perfect for travelling.  You won't have to worry about wrinkles or discomfort when you're on the go.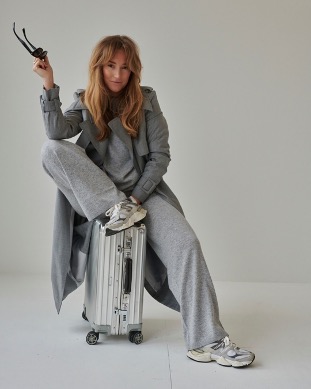 Instagram: @isabelleheijhoff
No matter the occasion, it is important to wear something you feel most confident in. From lounging at home to attending a wedding, the right pair of pants can make all the difference in how you feel and present yourself. So go ahead, choose the pants that make you feel comfortable and confident, and enjoy any occasion that comes your way!